Sanitary Agitators
by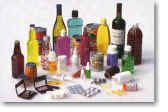 Liquid mixers built specifically for industries that require wash-down, polished, food grade or pharmaceutical grade equipment.
A 2,500-gallon pharmaceutical blending tank is mixed with a sanitary design SHARPE mixer.
Antibiotics - Penicillin - Serum - Vaccine - Saline Solutions
The strict regulations governing the pharmaceutical and biotechnology field require that only top quality equipment be used. SHARPE MIXERS meets or exceeds those requirements with a full line of mixers specifically designed for sanitary applications.
Electropolished and passivated stainless steel castings and fabrications make up the mixer drives on SHARP's all stainless steel series mixer. Shown here is a 350 RPM unit with a sanitary ferrule mount and mechanical seal.
SHARPE MIXERS has been building mixers for the food and beverage industry for over twenty years. From simple beverage syrup and juice concentrate blending to brew mash kettles and high viscosity products, successfully mixing a wide spectrum of food products has built a solid foundation of experience.
The photo above shows the lipseal used on the portable and F-series mixers, which seals out moisture from entering the mixer drive and corroding internal parts. Access to the shaft coupling is through a gasketed service window.
Syrups - Juice Concentrates - Salsas - Brewery - Dairy - Jams & Jellies
The USDA approved mixer line is built for environments that require "paint-free" equipment. This premium all stainless steel mixer series includes electropolished 300 series stainless steel motor, mountings, and gearbox assemblies. Food grade lubricants, stainless steel fasteners, and #4 polished S.S.316 impellers and shafts combine to provide the ultimate in sanitary mixers.
We Guarantee the Results - Explain your mixing problem - We will select the proper mixer and guarantee its performance. To send a quotation request or for more information. Click below.
Request for Quote and/ or more information
The Fluid Equipment Group
A Division of B.L. Mullen & Associates, Inc.
PO Box 582 - 2265 North Highway 16 - Denver, NC 28037

Phone: 704-489-2006 Fax: 704-489-0059
Sales@fluidequipment.com