Oil Skimmers
by

If you are confronted with an oil contamination problem that requires prompt, corrective action, we have the answer for you...It's our Model 6-V Oil Skimmer. It's versatile, rugged, always dependable, and fully automatic. No human assistance is required in the skimming operation. All you do is install the 6-V, turn it on and it goes right to work skimming waste oils, mineral and vegetable oils, animal fats, oily froths and other contaminants from water, coolants and cleaning solutions.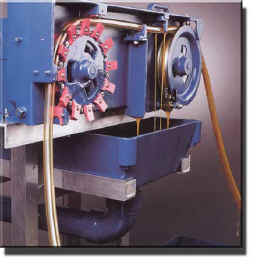 Oil Skimmer Model 6-V
The 6-V is designed to remove oil from settling ponds, steel mill scale pits, below-floor sumps, and central coolant systems. Using a flexible floating collector tube that is able to snake over and around debris, the 6-V averages an oil removal rate of 10-80 gallons per hour depending upon viscosity.
Several unique pre-fabricated mounting systems are offered to meet your specific application requirements. The angle-frame (shown in the photo on the left) is one of the many available mounting options.
Click here to see how the 6-V works
Oil Skimmer Model 5-H
In addition to the 6-V, Oil Skimmers produces a compact skimmer designed for use in above-floor, open and closed tanks used in waste treatment systems, parts washers, and coolant systems.

The compact design of the 5-H is particularly suited for areas with limited space. Just like the 6-V, the 5-H is fully automatic, easy to install, designed to work 24/7 and requires virtually no human intervention or maintenance.

Simple, rugged, and always dependable.

Unique features of both units
Skims waste oils, mineral and vegetable oils, animal fats, oily froths, and other contaminants from water, coolants, and cleaning solutions.
1/2 HP, industrial duty motor.
Cast aluminum construction with option for Teflon and Epoxy coatings to handle harsh chemical environments.
Ceramic scrapers and pulley fingers.
Heavy duty gearing, bearings and general construction.
Designed for 24 hour usage with little or no human intervention.
Debris will not interfere with operation.
Tubing automatically adjusts to varying liquid levels.
All equipment mounted out of liquid for easy access.
Sold with performance 60-day guarantee.
For additional information or a complete no obligation onsite survey, please contact us today!
The Fluid Equipment Group
A Division of B.L. Mullen & Associates, Inc.
PO Box 582 - 2265 North Highway 16 - Denver, NC 28037

Toll Free: 877-829-9982
Phone: 704-489-2006 Fax: 704-489-0059
Sales@fluidequipment.com