Media Mills
by


The U.S. Patent Office calls it #5620147.
You'll call it EIGHT TIMES as productive.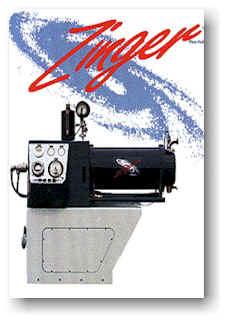 Zinger Horizontal
Media Mills
EIGHT TIMES as productive as standard mills.
Radial vaned rotor mechanically forces media/product mixture outward, creating higher shear energy.
Internal chamber diverters cycle media faster
Chamber and discharge head cooled for better temperature control.
Available in lab, pilot and production sizes.

Diverters in the grinding chamber rapidly decelerate highly energized media to increase dispersion. Media is forced back to the vaned rotor center to be accelerated, so the media works continuously.

Stone Mills
High production, low maintenance, low power consumption.
Stones from 36 to 120 grit.
Capacities of 10 to 4,000 gal/hr (37 to 15.140 L/hr).
Motors of 5, 25 or 50 hp.
Wheel adjusts stone clearance to within 0.001 inch (.03 mm).
All metal product-contact parts manufactured of stainless steel.
Highly polished inner surfaces for easy cleaning, fast product changes.
Vertical Media Mills
Continuous wet milling of aqueous and solvent slurries (all viscosities).
Mills to sub micron particle size.
Stainless steel mills available.
SEALED, SINGLE-VESSEL, NON-PRESSURIZED MILLS
Low maintenance.
Two separate water jackets for efficient cooling.
Volumes from 1.9 to 60 gallons (7.2 to 227.1 L).
Capacities of 2 to 900 gal/hr (7.6 to 3,406.5 L/hr).
Motors: 5, 15, 30, 50, 75 hp.
SINGLE-VESSEL PRESSURIZED MILLS
For difficult high-viscosity processing.
Double mechanical shaft seal for 50-psig (35,155 kg/sq meter) operation.
Gross volumes 1.9 to 60 gal (7.2 to 227.1 L).
Capacities of 2 to 900 gal/hr (7.6 to 3,406.5 L/hr).
Motors: 5, 15, 30, 50, 75 hp.

MULTI-VESSEL MILLS FOR REPETITIVE PRODUCT MILLING CYCLES
Pressurize or non-pressurized.
Connected for series or in parallel.
The Fluid Equipment Group
A Division of B.L. Mullen & Associates, Inc.
PO Box 582 - 2265 North Highway 16 - Denver, NC 28037

Toll Free: 877-829-9982
Phone: 704-489-2006 Fax: 704-489-0059
Sales@fluidequipment.com