Mag-Drive Pumps
by

Warrender, Ltd.
Since 1978, Caster has specialized in the production of sealless magnetically coupled pumps. Caster non-metallic designs are built to withstand the most severe process conditions.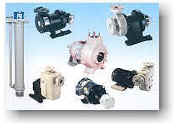 Constant research and development combined with versatile and innovative production has led to the industry's most comprehensive range of non-metallic mag-drive pumps. There are 7 different designs with over 100 basic models to choose from. So whatever the application requires, Caster can deliver the right pump to handle the most severe process conditions. Contact The Fluid Equipment Group, your single source for Caster seal less mag-drive pumps, for more information and literature.
Please give us a call or contact us today so we can answer any additional questions that you may have about Caster pumps, parts, and pricing.
The Fluid Equipment Group
A Division of B.L. Mullen & Associates, Inc.
PO Box 582 - 2265 North Highway 16 - Denver, NC 28037

Phone: 704-489-2006 Fax: 704-489-0059
Sales@fluidequipment.com